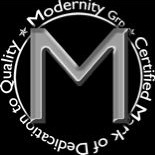 Modernity Grp. is a hardware and software distribution group, formed in the Spring of 2004. The goal of Modernity Grp. is to import modern Commodore technologies from around the globe and make them readily accessible to North Americans. Modernity Grp. presents, demonstrates and sells its product line at the biggest Commodore shows this side of the ocean, as well as accepting and supporting Mail Orders to anywhere in the world.

We are pleased with the line of products we make available, and may be looking to expand our line of support in the future.

Look for the certified mark of Modernity Grp.'s dedication to high quality hardware and software, for the Commodore 64 and 128 personal computer.